Im new on this forum. I was researching concave earth/sky centrism through 10 years. But still don't understand few things especially physics of orbiting everything inside.
So few weeks ago Japanese lunar "lander" had to land on the moon. But what was weird it's orbit.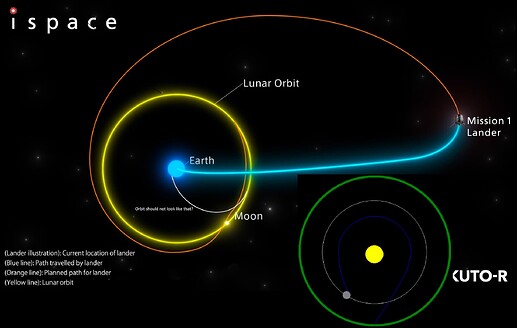 On right side is skycentrism model blue line is orbit of ship, grey is moon.
On the left this white line i drawned to show how in my opinion it should looks. In every space simulator it would look like that. There is no any reason to fly 1.5 million kilometers beyond the moon only for take his orbit.
Explanation in wiki is "In an effort to conserve fuel, the mission used a slower path to approach the Moon, entering [lunar orbit]"
How can they save fuel bringing lander on 1.5 million km altitude instead of 400 000km? At "Mission 1 Lander" sign, ship just accelerating, they just explained that is gravity of the sun. They didn't explained did ship used any thrust or not. But what next. When ship enter moon orbit it has to slow down, because apoge will be on 1.5 million km and perygeum around 400 000, so ship has to use fuel again, but they were explaining they are using this long orbit to save fuel…
So i made some tries in kerbal space program and i didn't noticed anything of that. I used trajectory of white line which i drawned and it was most effective way of fuel usage.
But now. When on yt was stream from landing. Of course there wasn't any onboard cam. And what was more interesting it was looks like this "Command center" didn't had any cam too. So where is real command center? These people in front of monitors watching only animations and charts.
And now 4mins part (103) HAKUTO-R M1 Moon landing - YouTube
Is it only my feel or i think that they are acting there? They really want people to feel emotions. I think is typical tactic when someone giving sign to one guy where start to clapping and the rest starting too. But this is so unnatural.
Ok but in the fact they showed two photos. But how we know on wchich altitude lander is and how big moon is? It's impossible to measure it from photo. Even all Apollo misions photos and record doesn't tell anything They were setted cams perfectly not to show everything.