Great video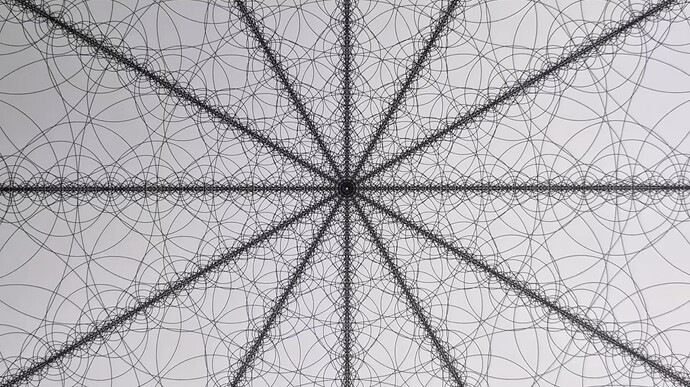 [Katie Mathews](https://www.youtube.com/channel/UCtJ4MGSgZUKqXCzcUKpHkBQ)
I don't expect anybody to believe this, and rightfully so, but, here I go. I saw this pattern in a 'vision' when I was suffering from severe sleep deprivation and at the time, although I still have a hard time remembering everything, I was trying to explain to my friends and family that it was the nature of spacetime and the universe. I was pretty out of my mind at the time but I suffer from chronic insomnia since birth, and was not on any drugs or alcohol. I was described it as a spiral with a chain going down it and the only person that knew what I was talking about was a friend I have that is proficient in physics, geometry, and mathematics. He pointed me in the direction of the Thunderbolts project and the primer fields videos and now I am enraptured by physics. I never even attended college, I've been a tattoo artist my entire life and had to retire due to debilitating pain. I have all this extra time on my hands now, so, I'm going back to high school level physics, starting over, and down the rabbit hole I go.
Read more
466
REPLY
79 REPLIES

Hi. I speak here as an inventor (I am registered in Switzerland's patent buro). Back in 2012 I registered a turbine engine employing vortex dynamics. I can confirm even in molecural level (gas level) that the schema at 3:31 is preciselly what a combustion of fuel and air under vortex looks like. Funny how the pattern in the universe repeats.
89
REPLY
17 REPLIES

When i was a child, i doodled by drawing this line that looped back over itself over and over again. I discovered it while learning to write cursive lower case f. I am pretty sure what i started drawing was fractals and this pattern got more complex over time. There was just something so satisfying about drawing that. I really believe that my mind is always on the cusp of discovering something very profound about the cosmos. This is one of the best EU videos I have seen. Satisfying, like my doodles when i was a kid. There is going to be major breakthru from this group soon. I can feel it.
86
REPLY
10 REPLIES

I am so happy. I can only understand some of what he says but my artist's heart lives in what he draws. I've been watching that structure become more and more apparent for 84 years. Our comprehension seems to be rushing into this new flowering of humanity in a race against our incredible urge to destroy everything. Wonderful to see young, brilliant minds at play
114
REPLY
11 REPLIES
"we are electric beings" makes sense that we are 90% water
24
REPLY
6 REPLIES

well this has been one of the more 'dot connecting' episodes, wouldn't you say? I loved it!! Even though I didn't get a LOT of the references there is an understanding of what they are when you are able to see it visually on screen (at least I hope what was on screen was what Biddy was talking about) - Hopefully he can do a second episode, a follow-up to this one in which more examples of these geometries happening in the universe around us… I think we will find ALL KINDS of surprising geometric patterns when looking to the heavens… the positions of stars… the relationship of the planets size and composition to it's position in a greater geometric shape/pattern… the same with the galaxies… it's just all so big and overwhelming, but if you can find a geometric shape and pattern to it then it makes so much more sense

THANK YOU BUDDY JAMES!!! THIS WAS AMAZING!!
Read more
43
REPLY
14 REPLIES

It's good to see somebody in the Electric Universe notice Walter Russell's work. He so clearly supports the concept that I'm surprised it took so long for somebody to see the connection.
40
REPLY
6 REPLIES

I can't stop crying… I feel like I was waiting for this moment since my young ages. I had almost given up. Thank you Buddy, thank you <3
8
REPLY

To hear you speak of these great men is music to my ears, thank you for continuing this great work that has been discretely slid to the back of the library , the pendulum cannot be held back from its swing forever.
61
REPLY
27 REPLIES

One of the coolest, most badass, most beautiful things I've connected with in quite awhile. The informatiom, the beauty and the truth, shared here will potentially take my energy practices to a whole new level. Thank you Buddy James. This sparked something inside my soul and I am super stoked to work with these new templates!!
19
REPLY
4 REPLIES

My Dad was a fractal engineer. Really he was an Architect who became tired of drawing straight lines at work so when he got home he would draw fractals.
12
REPLY

dr. walter bowman russell needs to become more mainstream. thanks buddy!
13
REPLY
1 REPLY

I have been captivated by Halton Arp's work and how he was destroyed for his discoveries. My take on his final postulation is that matter is created by the unfathomable energies in a Galactic Core Z Pinch eruption. It is imagined that in some unknown manner, periodically in some galaxies' cores, there is a perturbation resulting in a massive energetic eruption and an ejection of matter that moves away along an active galaxies polar axis. He postulates this ejecta are matter without or with low mass initially and as time passes and they move further out along the centerline its energy level drops. This condensation, if you will, of matter that is formed, gains mass and results in an intrinsic shift in energy level evidenced by a change in its red shift. How could the vortices, toroids and geometric plasma fractals produce matter from energy? Love the work and the emergence of a new paradigm that is a more accurate and understandable representation and interpretation of reality. Thank you all, for all that you do.
Read more
18
REPLY
2 REPLIES

WOW, thank you Buddy James for this outstanding information. I am as excited as a child who has just discovered the keys to the universe. Please make a followup video 2. I will need to listen to this over and over again to truly understand it, but it all resonated with me, like finding a beacon pointing the way home. I love the way it is all interconnected, from the macro to the micro.
5
REPLY

Omg my gosh I just want to say that the image in your thumbnail is literally the only thing I can "see" 90% of the time in my minds eye, my whole life. I can zoom in and out but that's the totality of it. On rare occasions I can see glimpses of memories kind of like movie clips or montages. So cool to see it depicted in an image
2
REPLY

FANTASTIC, WHY can't we have more conversations like this in society and uncover the genius that is all around us. I suspect we have many who think and see the world in these different ways and could unlock the next generation of thinking and humanity. Please keep these coming and while I probably only understood some of the topics and concepts, it was BEAUTFUL and seemed to show a universal unity in how all energy systems flow together through an infinite stream that only needs to be uncovered and leveraged. maybe someday

3
REPLY

I just want to say this is amazing work and your skill in not only being able to explain this simply but the artisticness of the drawings is beautiful. Thank you Buddy thank you .
7
REPLY

Wow! What a great video! It just resonated so much truth about everything! Amazing art work helping me to visualize concepts of so many things I love to learn about. Thank you! Thank you! Thank you!
3
REPLY

Such fantastic work Buddy! You are amazing and been so persistent in your drive toward fully innerstanding the geometry of the Aether and I'm so excited to work with you and further expand on this together truly a legend and your work is forever imprinted in time
3
REPLY

Buddy, you are outstanding! Getting right to the heart of the "matter".
4
REPLY

"Geo" literally means Earth, so geometry is measure of Earth. Measure of universe is astronomy and includes geometry (number in space) AND music (number in time)
8
REPLY

What a great video Buddy! thanks for the upload, very well presented
2
REPLY

F me! Buddy is THE MAN! That was epic. I'll be re-watching this one many many many many times.
8
REPLY

This was wonderful to watch. Thank you for the amazing work.
3
REPLY
1 REPLY

Plasma Birkland currents as fractals and Dougherty sets! Wow! So much information in this one, I can't wait to watch it again! The "pitch angle that increases smoothly and continuously with radial distance" (Scott) seems like a key to evolution of our galaxies, and so much more…my brain is fractalizing all this information…thanks so much and when is a book coming out!?